Solar Power Your Gate!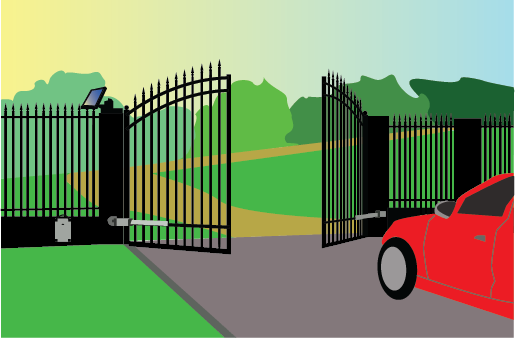 The sun beams more than enough power to satisfy energy needs for an entire year. Solar panels allow you to utilize this free, clean power to operate your gate.
Usually, gates run on electricity powered by fossil fuels, such as coal, oil and natural gas. This power releases greenhouse gas emissions into the atmosphere, which can be harmful to humans, plants, animals, and the ozone layer. Solar power takes the sun's heat and turns it into a clean source of power that emits none of these chemicals.
As a result, solar panels give you a clean, safe gate system that is free to run.
Solar panels also allow your gate to run during a power outage. Heat from the sun charges the panel, and in turn stores the energy needed to open your gate without electricity. No need to worry about getting out of your driveway when the lights go out!
Interested in solar panels for your gate, but need a gate operator? Consider this: As of December 2008, most people qualify for a 30% tax credit the year they buy a solar operator. This means if you spend $1,500 on a solar package, you not only save month after month on your power bill, but you get a $450 tax credit for next year.
Ready to buy? We offer 10 watt and 20 watt solar panels at discounted prices so you can save money while saving the world. We believe in the benefits of clean energy, and want to help you make a positive change in the way you run your gate!