Induction Loop Detectors For Gate Openers
Vehicle loop detectors for gate openers have grown in popularity over the past few years. They have been around for a long time and are of great value to allowing traffic flow at gates. They let the opener know when a vehicle is at the entrance so that it can open the barrier arm, slide gate, or swing gate. We have a whole article on how vehicle loops work. To summarize, vehicle loops work by inductance. The detector requires a certain percentage of change in the electrical connection for it to "detect" a vehicle.
In a slide gate system, two loops are preferred; one for the inside and one for the outside. Having two loops in this system allows an exit loop to open the gate while using a reverse loop on the other side, ensuring the gate does not close while the vehicle passes over it. In a swing gate system, three loops are preferred; one for the inside of the gate, one for the outside, and one underneath the gate swing path. These systems allow safe vehicle passage without the fear of the gate closing on them. The amount of exit loops will determine what type of loop detector is required. There are single-channel and dual-channel vehicle loop detectors.
Single channel vehicle loop detectors work for a single induction loop. These are usually installed when only one exit loop is present. Other safety measures using the UL 325 Safety Standards should still be in place, so the gate does not close on the vehicle. Photo Eyes are usually used in conjunction with vehicle loop detectors. Single channel loop detectors can be configured to use fail safe or fail secure modes depending on the model. A fail-safe detector will output "detect" when the loop circuit is failed. This is useful on a safety loop. On the exit loop, this will keep the gate open until fixed. This mode's biggest benefit is applications requiring traffic flow to continue. A fail secure detector will never output "detect" when the circuit is failed. The gate will remain closed. This is extremely useful in high-security applications where containment is needed. Single-channel loop detectors are a great option for smaller applications such as small businesses or apartment complexes.
Shop Now
Dual channel vehicle loop detectors are a must have for more than one loop. This is especially useful in swing gate scenarios where an exit loop and a shadow loop are installed. The shadow loop is installed underneath the pathway of the swing gate, ensuring no vehicle will be in the way when the gate opens. Dual channel detectors are also great for two-way traffic. Just like the single-channel detectors, dual-channel detectors can also use fail-safe or fail secure commands. Some models also have a feature called detect-on-stop. This feature will only open the gate once a vehicle is fully stopped on the loop. This prevents vehicles from tailgating the front vehicle to get through the security.
Shop Now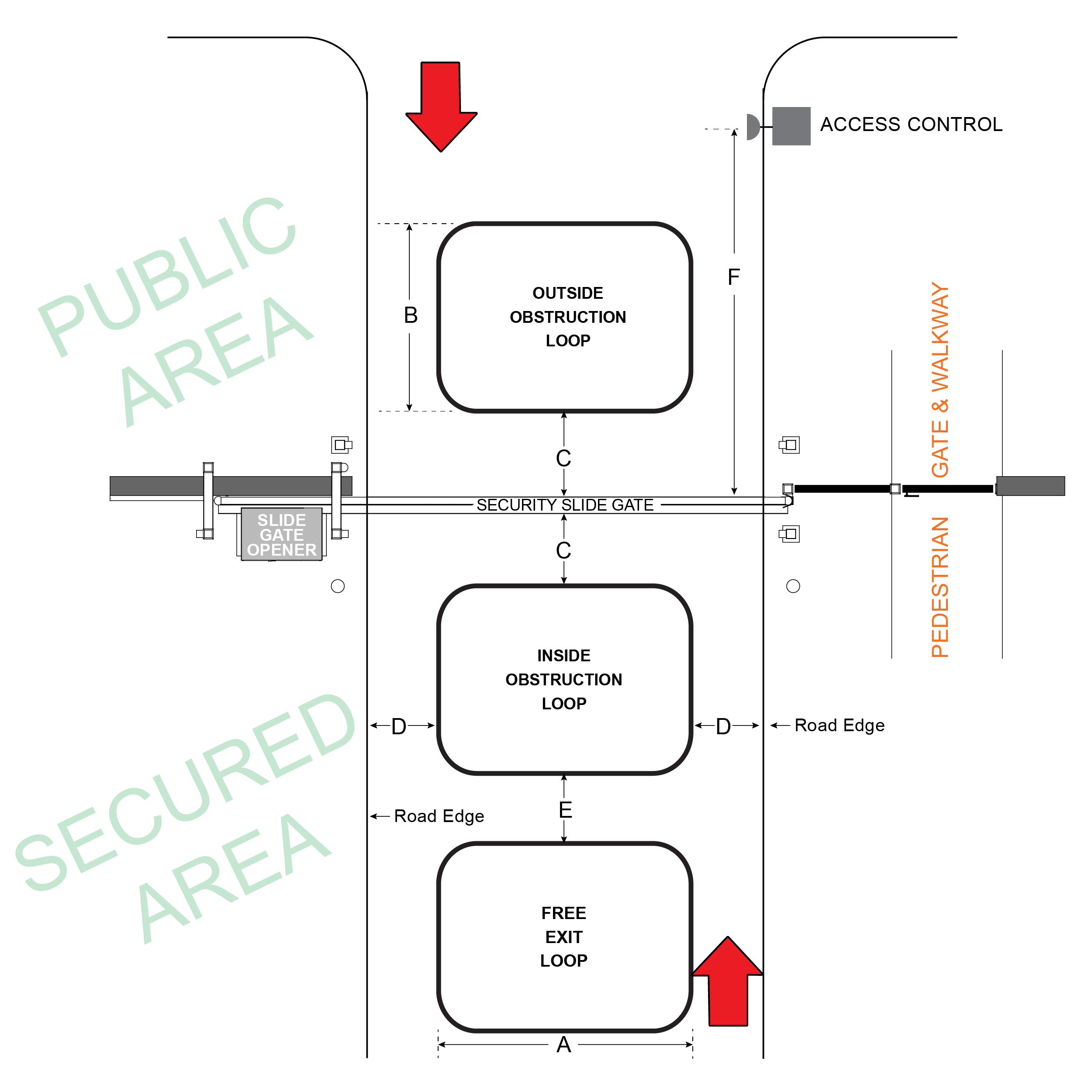 Vehicle Loop Detector Diagram - Automatic Sliding Gate Opener Installation
Learn More About How Vehicle Loops Work
Loop vehicle sensors are highly customizable and can work in many different configurations. Single-channel detectors are best used when only one loop is present, while dual-channel should be used when more than one loop is present. Make sure to follow the UL 325 Safety Standards to provide safe traffic flow. Contact one of our helpful representatives if you have any questions about vehicle loop detectors for gates. We'll help in any way we can!
Contact Us
Other Articles To Read