Gate Opener Safety Equipment Superstore
Welcome to Gate Opener Safety. We carry various Gate and Garage Door Safety Devices and Equipment for residential, commercial, and industrial applications. We offer Safety Edges, Vehicle Loops, Photo Eyes, Exit Wands, Vehicle Detectors, Automatic Vehicle Identification Devices, Wireless Loops, Sounders, and more. For the best selection of Gate Controls, we stock and ship Buttons, Key Switches, Timers, Keypads, Proximity Readers, Cables and Reels, Post Mounts, and more. Gate Opener Safety is committed to providing a huge selection of safety-rated and emergency access equipment, including SOS siren-operated sensors, fire lock boxes, warning signs, and fire strobes to keep your gate safe and accessible. At Gate Opener Safety, we will help make your gate or garage system reliable and safe.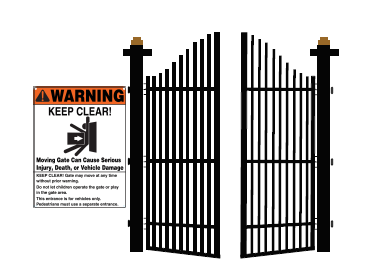 UL 325 Gate & Garage Door Safety Resources
UL 325 Safety Standards are rules and regulations that must be followed to address the safety concerns and requirements for the automatic operation of all garage doors, vehicular gates, draperies, exterior awnings, louvers, windows, and other opening and closing appliances. This standard was created by industry leaders and Underwriters Laboratories (UL) to evaluate products in the interest of public safety, including preventing fire and electrical hazards and providing consumers with safety requirements for all applicable products. At GateOpenerSafety.com, we highly recommend working with a professional to meet the safety standards of UL 325. Find resources for Gate Safety below.
Learn About Us
Gate Opener Safety is devoted to delivering top-of-the-line, reliable gate products. We do simply bring you the highest quality products at unbeatable prices. We strive to be the industry leader and supplier of all your gate safety needs, whether you're searching for replacement parts, considering adding new features to your existing system or overhauling an out-of-date system to make it the newest one on the market. We offer a huge selection of photo eyes, sensors, loop detectors, installation hardware, emergency equipment, and more. Gate Opener Safety will help make your gate or garage system reliable and safe.
Each product you'll find on Gate Opener Safety is a high-quality piece of equipment created with protection in mind. Our incredible Gate Opener Safety team of highly skilled professionals is passionate about our products and providing you with top-of-the-line resources and tools to build or maintain your system. For more information, purchase order details, or help to choose a product, please contact us at (888) 378-1043 or Sales@GateOpenerSafety.com to speak with a qualified representative.
Store Information: