What Are The Safety Requirements For Automatic Gates?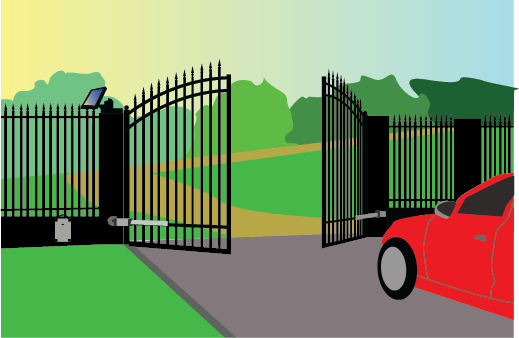 Automatic gates provide a secure and fast way to enter and exit a residential or commercial property. It is crucial to know and understand the safety requirements needed for an automatic gate system. There are both the ASTM F2200 Requirements as well as the UL 325 Safety Standards. It is recommended to work with a professional to meet safety standards. These standards were created by industry leaders and Underwriters Laboratories (UL) to evaluate products in the interest of public safety. This includes preventing electrical and fire hazards. It's important to regularly check all safety equipment for your automatic gate to see if it is still meeting these standards.
Important Points:
Swing gates with potential entrapment zones of greater than 4" to less than 16" must be protected.
Covers For All Exposed Rollers
Swing gates must not have any protrusions on the bottom of the gate.
Slide Gates And The Adjacent Fence Must Not Allow A 2 1/4" Sphere To Pass Through Up 48" From The Ground
Pedestrians must be directed to a separate entrance and exit
Swing Gates used for vehicular traffic, operators must be installed
All Access Controls Should Be Mounted At Least 6 ft. Away From Moving Parts
All Installed External Entrapment Sensors Must Be Monitored
These are just a few of the key points that need to be followed for the safety requirements of automatic gates. Each year, there are deaths and accidents because of gates not being up to safety specifications. Make sure to check out all of the requirements for gate safety. If you have any questions or would like to place an order, reach out to one of our trained sales associates.
Contact Us
Read Other Articles